El Al's board has approved a non-binding memorandum of understanding in preparation for signing an agreement to acquire fellow Israeli carrier Arkia.
Under the proposed transaction El Al will acquire the entire share capital of Arkia from its shareholders, and the airline will become a wholly-owned subsidiary of the Israeli flag-carrier.
The airlines will maintain separate brands, with individual crews, with maintenance and services to be provided by each operator to both.
El Al adds that a business plan will be established for Arkia as a separate entity.
Arkia's main shareholders are Arkia Holdings, which controls the airline, and an aviation and tourism workers' corporation, known as Tut.
These shareholders will receive 10% of the issued capital of El Al as well as options, but the memorandum includes provisions to adjust the number of securities allocated.
This adjustment mechanism means the Arkia shareholders' stake in El Al could increase to 14%.
El Al says that Tut will have a choice whether to join the adjustment mechanism and, if not, will be assigned a proportion of securities based on a total volume of 12% rather than 10%.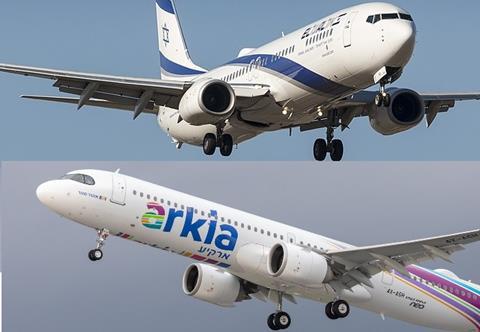 The parties will aim to complete due diligence work within 30 days, approve a binding agreement 30 days after that, and complete the transaction 90 days after signing the binding deal – although a 60-day extension to completion will be available.
El Al says a binding agreement will not be signed – and no deal completed – unless collective pacts are concluded with union representatives regarding the employees of both airlines.
It adds that several conditions need to be met to complete the acquisition, including regulatory approvals from the competition authority, ministry of finance, and others.
El Al's controlling shareholder, Kanfei Nesharim, will make certain commitments, including approving a candidate for the airline's board proposed by Arkia shareholders for as long as they hold more than 7.5% of El Al stock.