Israeli flag-carrier El Al has formally put forward an offer to purchase another Boeing 787-9, an aircraft which was originally manufactured for another customer.
The airline has 15 787s in its fleet and already intends to take another – a delivery deferred during the pandemic – to complete its original order for 16 of the type.
But El Al recently indicated that it would consider additional aircraft in order to address capacity needs.
It has submitted an offer to Boeing for a 787-9, fitted with Rolls-Royce Trent 1000 engines, which was built for another operator.
El Al has not disclosed the identity of this operator.
But it states that the aircraft will be modified by Boeing to suit El Al's requirement, and the carrier expects to take delivery of the twinjet in the second quarter of 2024.
This would take the airline's 787 fleet to 17, comprising 13 787-9s and four 787-8s.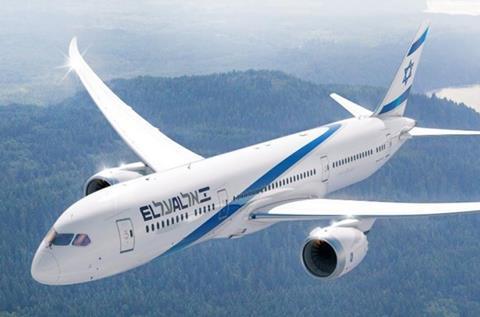 Its fourth 787-8, the aircraft under the deferred delivery agreement, is set to arrive in the third quarter of 2023, the airline says, a shift from its most recent estimate which had indicated arrival in the first half.
This latest revision of the delivery schedule was signed at the same time as the carrier made its proposal to take the additional 787-9.
As part of the agreement, El Al will be provided with an undisclosed quantity of credit to be used either for Boeing services or to assist with funding the last 787-8 delivery.
El Al says the two sides will be "mutually waiving" claims regarding the late delivery of the aircraft.
It states that the overall purchase cost of the two 787s, taking account of the necessary investments and configuration adjustments, as well as the credit, will amount to around $230 million.
El Al says it is looking at "several alternatives" for financing the two aircraft, but points out that it has yet to sign a final completion agreement for the additional 787-9.