Israeli flag-carrier El Al has reiterated that a financial support scheme is critical to the airline's survival, as it disclosed a net first-quarter loss of nearly $140 million.
El Al says financial assistance is "essential" to its being able to deal with the coronavirus crisis.
At the end of the first quarter, on 31 March, the company's current assets totalled $324 million, down by $162 million, while its current liabilities had risen by $1.1 billion to nearly $2.2 billion.
El Al attributes this sharp increase – and the consequent trebling of working-capital deficit – to a requirement that, owing to the company's situation, certain loans be classified as short-term liabilities.
Its non-current assets stood at $3.06 billion while non-current liabilities reached $1.27 billion, leaving the company in overall negative equity.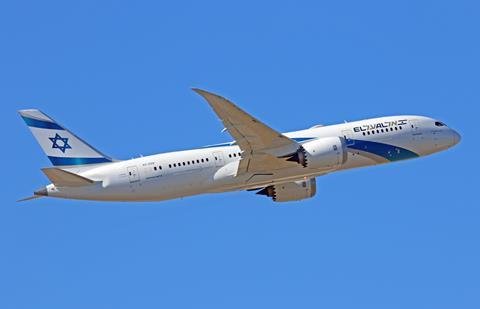 "There are significant doubts about the company's continued existence as a going concern," it warns.
El Al has also had to cope with the impact of deteriorating aircraft values, because conditions attached to certain loans require a minimum ratio to be maintained between the value of aircraft and the loans secured on them. Non-compliance would give the lending banks the right to a $30 million payment, but the airline has obtained a waiver from the ratio requirement.
Consultancy BDO has carried out a valuation of the El Al fleet, which comprised 45 aircraft at the end of March.
El Al's revenues for the first quarter slumped by 25% to $321 million, the airline states. But its operating expenditure only fell by 10%, to $362 million, in the same period.
The carrier's pre-tax loss of $161 million was more than double the $71 million figure recorded for the first quarter of 2019.
It has been negotiating a $400 million loan backed by the government, and prepared a business plan outlining a number of scenarios – including "streamlining" measures and a "gradual and limited" operation of the fleet – for an exit from the crisis.
El Al says the loan is conditional on a number of issues including a new collective agreement with employees, to improve efficiency, the release of surplus funds from a central repository, and completion of certain sale-and-leaseback transactions.
Israel's government has been proposing an alternative plan involving a combination of a $250 million loan and the issue of $150 million in new shares.
El Al reached an agreement in the last week of June to amend working agreements with its cabin crew, a deal aimed at saving $30 million. The agreement was reached with the trade union centre Histadrut and the transport workers' union. El Al employs around 1,400 flight attendants.