Israeli flag-carrier El Al has dropped plans to enter a sale-and-leaseback transaction for three Boeing 737-800s with an undisclosed foreign company.
El Al had stated in April last year that it signed a memorandum of understanding covering the deal for the three aircraft, all manufactured in 2009.
The airline has 16 737-800s of which six are owned. Cirium fleets data indicates that three were manufactured in 2009 – registered 4X-EKH, 4X-EKJ and 4X-EKL.
El Al says it has negotiated with the company involved to update the terms of the agreement, but has "decided not to proceed with the transaction at this stage".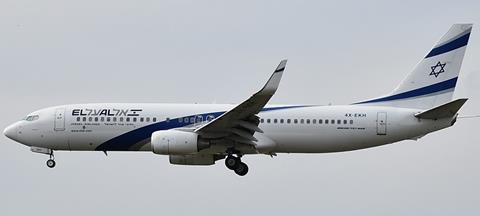 Under the original plan it would have sold the aircraft for $76 million and leased them back for eight years.
The airline says it is examining "financing alternatives" for the aircraft but has yet to disclose details.
El Al reached the preliminary sale-and-leaseback agreement last year as it took action to address the consequences of the pandemic.
Among the conditions attached to the agreement was the successful securing of state support from the Israeli government, release of the aircraft from other obligations, and physical inspection of the jets.