Israeli flag-carrier El Al has reached an agreement with its maintenance and engineering personnel as part of its efforts to tighten the airline's efficiency.
El Al says the pact, signed on 16 August, will run until the end of 2026.
It will cover El Al's plans to introduce wet-leased passenger and freighter aircraft into the fleet, a measure aimed at increasing capacity to meet post-pandemic surges in demand.
El Al adds that the agreement refers to implementing actions to "streamline" aircraft servicing processes in hangars, and the possibility of maintenance work being conducted by external parties.
Employees, in return for their commitment and industrial peace, will receive additional payments and other benefits.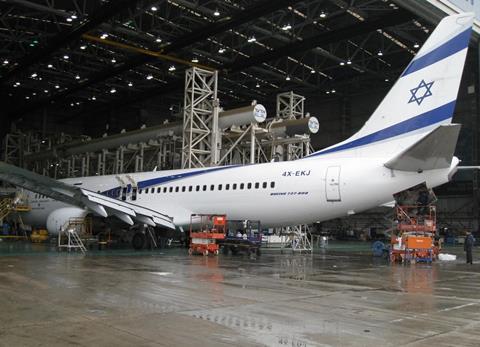 El Al says it foresees "no significant negative impact" on the airline from these extra rights to personnel.
"The agreement is an important step and builds trust," says El Al chief Dina Ben Tal Ganancia.
Israeli trade union centre Histadrut supported the co-ordination, and says the agreement will contribute to expanding efficiency measures for the company's benefit.
Transport workers' union chair Avi Adri says the agreement "does justice" to a personnel group which has demonstrated "excessive responsibility" during the air transport crisis, by working under "unusual" conditions to keep aircraft properly maintained.