Israeli flag-carrier El Al is continuing negotiations with cockpit crew representatives in a bid to resolve a persistent dispute ahead of a labour court hearing.
The dispute – focused on pay claims and working conditions – has led to disruptions in the airline's schedule over the past couple of months as it was forced to cancel a number of flights for which crews did not turn up.
While the easing of pandemic restrictions has led to increased demand for flights, El Al – like many operators – has been facing a shortage of personnel, and pilot actions are adding to the pressure on the carrier.
El Al filed an urgent request with the Tel Aviv regional labour court against the pilots in mid-June, following the cancellation of several services.
It wanted, among other demands, to ensure that pilots fully complied with the airline's requirements as it sought to re-introduce services with a number of Boeing 777s.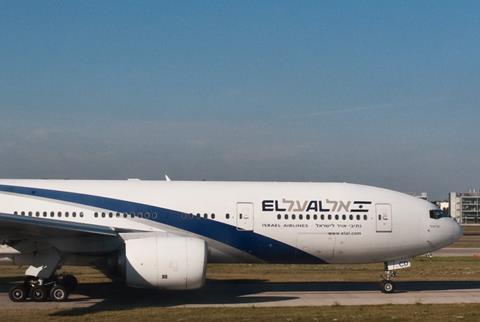 The court imposed an interim decision on 17 June instructing that the parties should uphold labour agreements in "good faith" and maintain the flight schedule.
It also ruled that the various sides should carry out two weeks of "intensive negotiations" and provide feedback to the labour court every few days.
El Al says it is "continuing negotiations" in order to reach an agreement, and reduce inconvenience for its passengers, and a further labour court hearing is due on 10 July.