Israeli flag-carrier El Al has unveiled a pre-tax loss of $148 million for the third quarter alone, after revenues for the period sank by 94% to less than $40 million.
El Al's performance under the weight of the pandemic crisis brings its overall pre-tax losses for the first nine months to more than $418 million, on revenues of $511 million.
Over the same nine months of 2019 the airline's pre-tax loss amounted to $35 million.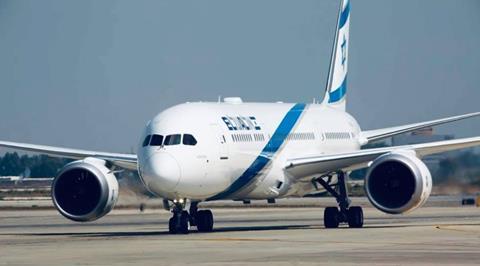 El Al has been the subject of an urgent financial rescue plan which, earlier this year, resulted in a share issue and a change of major shareholder.
The airline's total liabilities exceed its total assets by $126 million, with the imbalance of current assets and liabilities standing at $1.73 billion.
El Al says its current liabilities include just over $1 billion in loans from banks, as well as some $284 million in ticket sales which must be repaid in cash as a result of the crisis.
Owing to the airline's financial situation it is obliged to classify the debts as current liabilities, even though it has been able to meet payment schedules.
Over the first nine months El Al's net loss reached nearly $391 million.
While the rescue plan centred on a $150 million share issue and the raising of $250 million through a state-backed loan, El Al says that – at the time of its third-quarter statement – it had not reached any agreement with potential financiers for such a loan.
El Al says that, as a result, it intends to raise the funds through a public offering of debt backed by the government.
Completion of this debt raising is necessary, it says, to cope with the impact of the crisis, and El Al warns that there are "significant doubts" over the ability of the airline to continue as a going concern.