Israeli flag-carrier El Al aims to continue negotiating with leisure airline Arkia regarding a proposed acquisition, but the exclusivity period for the talks is not being extended.
El Al entered talks with its fellow Israeli carrier last year with a view to purchasing the entire share capital of Arkia and turning it into a subsidiary – but retaining the airlines' separate brands.
The El Al board set out a memorandum of understanding in early February including a proposed timetable for due diligence and completion of the transaction, although it cautioned that finalising a tie-up would depend on several conditions being met.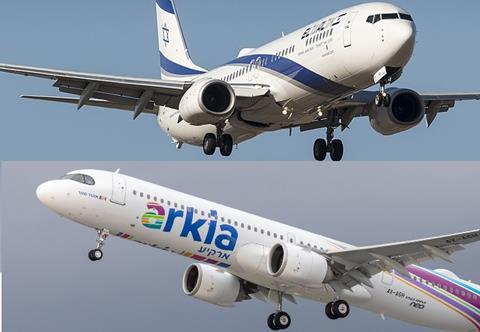 El Al says it was notified by Arkia on 26 June that the exclusivity period under the memorandum would not be extended and, as a result, would expire on 29 June.
"[El Al] intends to continue to negotiate with Arkia even without the exclusivity clause," says the flag-carrier.
"But [we] cannot estimate when – if at all – the transaction will be completed and, if so, what the terms of the deal will be compared with those stated in the memorandum."
El Al had proposed an acquisition involving an exchange of shares, without elaborating on the value of the transaction.
Arkia operates Airbus single-aisle and Embraer regional jets, in contrast to El Al's all-Boeing fleet of short- and long-haul types.
El Al had previously attempted a merger with Israeli carrier Israir before the final proposed tie-up was rejected by Israeli competition regulators.