Struggling African carrier Air Namibia is cancelling all flights from 11 February, and returning its fleet to its Windhoek base.
The cessation of operations for the troubled flag-carrier comes eight months after the Namibian president, Hage Geingob, told the country's parliament that the airline should be liquidated.
Geingob had made the declaration after delivering a state-of-the nation speech in early June 2020.
Air Namibia has disclosed that "all flight operations will be cancelled" with effect from 11 February, and that its aircraft will be flown back to its base.
"The reservation system for taking new bookings is also suspended," it says, through its official social media channel, directing passengers to contact its call centre for refunds.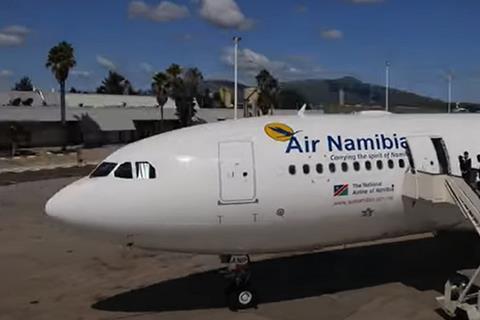 Air Namibia's collapse has emerged two days after Geingob spoke at a virtual ceremony to mark the re-opening of parliament on 9 February, declaring 2021 to be the "year of resilience".
He underlined the difficulties facing the country as a result of the pandemic, adding that the government has had to make "extraordinary sacrifices" to mitigate its effects.
"Lockdowns and curfews have been put in place, schools and businesses have been closed, and revenue-generating activities have been curtailed," he said.
"All of these factors have impacted our economy and most notably, the Namibian people, many of whom have lost their businesses, jobs and ultimately, their livelihoods."
Air Namibia has been operating a small fleet comprising Airbus A330-200s, A319s and Embraer ERJ-135s.