In what it called the "toughest year in its history", Singapore Airlines Group slumped to a record S$4.3 billion ($3.2 billion) full-year net loss, dragged down hefty impairment costs.
At the operating level, the group was S$2.5 billion in the red for the year ended 31 March, reversing the S$59 million operating profit it made the previous year.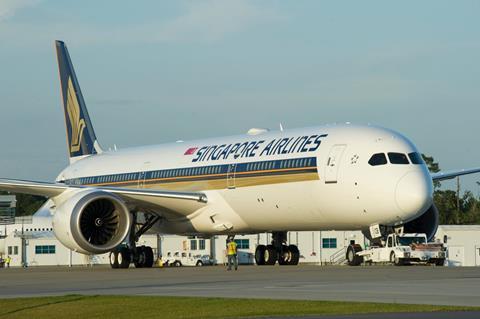 Full-year revenue plunged 76% to S$3.8 billion, as the group's airlines — mainline SIA, now-shuttered regional unit SilkAir, as well as low-cost carrier Scoot — saw traffic plunge nearly 98% year on year.
Cargo revenue made up the bulk of the airlines' revenue for the year, at S$2.7 billion. This was a 39% increase year on year, the only bright spot in the group's otherwise bleak results.
"Strong air cargo demand, especially in key segments such as e-commerce, pharmaceuticals and electronics, provided strong support for both cargo load factors and yields amid tight industry cargo capacity," says SIA.
Expenses for the year were down about 60% to S$6.3 billion, as a result of reduced flying activity and lower fuel prices.
The group took a staggering non-cash impairment charge of S$1.7 billion relating to the early retirement of 45 aircraft — up from 33 disclosed in its half-yearly results.
Cash and cash equivalents stood at S$7.8 billion as of 31 March, up from S$2.7 billion a year earlier.
In its outlook, SIA says "the prognosis for the global airline industry remains uncertain", even while vaccination drives are ongoing globally.
"While domestic markets have recovered in some countries, international air travel remains severely constrained and its recovery trajectory is still unclear," it adds.
The group is also hopeful that international passenger travel demand will increase in the second half of the year, as vaccines continue to be rolled out.
"SIA is also actively pursuing new engines of revenue growth, as well as initiatives to achieve a more competitive cost base to secure its future financial sustainability. The group will continue to exercise discipline on costs and cash management," it adds.