Middle Eastern carrier Emirates is aiming to have 85 of its 118 Airbus A380s, over 70%, back in operation by the end of this year, as it prepares to operate the type with a premium-economy cabin on additional routes.
The airline is intending to retrofit 67 A380s with the premium-economy seats along with 53 of its Boeing 777s from November, having initially introduced the change on a limited number of aircraft early last year.
Emirates will put the retrofitted A380s on services to New York JFK in December.
It will then introduce the modified configuration on A380 routes to Auckland in mid-January 2023, Melbourne and San Francisco in February, and Singapore in March.
Emirates adds that it will also be offering more A380 services with the premium-economy cabin to London Heathrow and Sydney – with a debut to Christchurch in March – and will also reinforce the JFK service.
It also already offers the cabin on flights to Paris.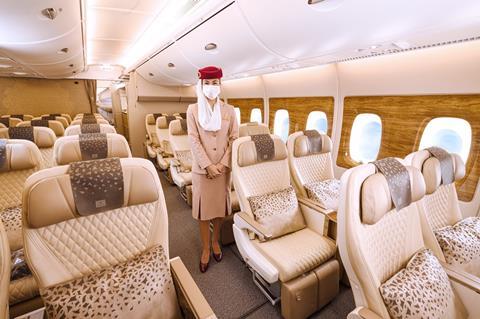 The Dubai-based carrier expects to have recovered three-quarters of its pre-crisis A380 network by the end of this year.
Emirates claims the customer feedback to the new cabin – comprising 56 seats in eight-abreast in the forward main deck – has been "overwhelmingly positive", and that demand has exceeded expectations.