Middle Eastern carrier Emirates has shown off the new premium-economy cabin fitted to its latest Airbus A380, of which the airline took delivery in mid-December.
It comprises 56 seats in a 2-4-2 cross-section, with up to 40in pitch, at the front of the A380's main deck. Each has a 13.3in screen, in-seat charging point, as well as other features.
The changes mean the A380 has a four-class layout with a total of 484 seats.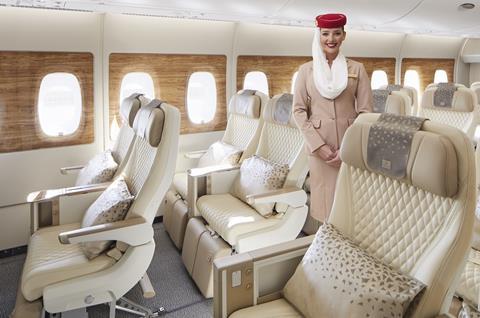 Emirates says the remaining five A380s it has on order – due to arrive over 2021-22 – will similarly have the cabin, which is also set to appear on some of the airline's Boeing 777X jets when they start arriving in 2023.
The Dubai-based operator states that it is "considering" a retrofit of its current A380s following the premium-economy installation.
Emirates has yet to disclose the routes on which it intends to deploy the newly-configured A380.
"Until we have a viable number of seats in our inventory to bring to market, we plan to offer the Emirates premium economy experience as a complimentary upgrade to valued customers," says Emirates Airline president Tim Clark.
"While others cut back, Emirates is working hard to restore the products and services that we've had to suspend or adjust due to pandemic precautions."
Emirates adds that the new A380 also includes enhancements to its 14 first-class suites, such as a slight increase in width and taller privacy doors, while other aspects of the cabin detail, trims and fittings have been "refreshed". The 76 seats in the business-class cabin and 338 economy-class seats have also been upgraded.