Emirates Group slashed its workforce by nearly a third in response to the air transport crisis, the impact of which has driven the perennially-profitable operator to a rare full-year loss of Dhs22.1 billion ($6 billion).
The airline division suffered a loss of Dhs20.3 billion, in contrast to its profit of Dhs1.1 billion in the previous year, while the ground-handling arm Dnata recorded a loss of Dhs1.8 billion.
Emirates Group says redundancies were implemented across all sectors of its business for the first time in its history, cutting total staff by 31% to just over 75,000.
Dubai's government granted a capital injection of Dhs11.3 billion to Emirates while Dnata was able to secure relief of nearly Dhs800 million.
"These helped us sustain operations and retain the vast majority of our talent pool," says Emirates Group chief executive Sheikh Ahmed bin Saeed Al Maktoum.
"Unfortunately, we still had to make the difficult decision to resize our workforce in line with reduced operational requirements."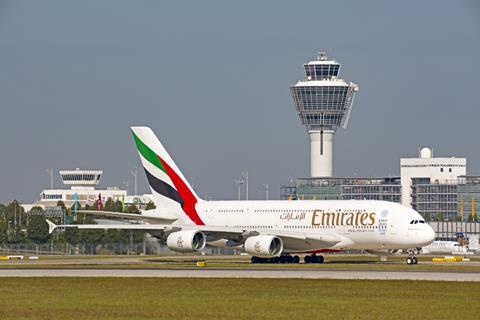 While the crisis brutally interrupted Emirates Group's track record of profitability, Al Maktoum says the "fundamental ingredients" of the company's success "remain unchanged".
"No one knows when the pandemic will be over, but we know recovery will be patchy," he states. "Economies and companies that entered pandemic times in a strong position will be better-placed to bounce back."
The company will "adopt an agile approach" to the "dynamic" market, and intends to recover full operating capacity "as quickly as possible", he adds.
Emirates Group's revenues totalled Dhs35.6 billion for the year to 31 March 2021, with the Emirates airline operation badly-hit – its revenues were down two-thirds to Dhs30.9 billion.
The airline was forced to halt commercial passenger services for nearly eight weeks from 25 March 2020, a few days before the company's 2020-21 financial year opened.
Over the 12-month period its fuel expenditure fell by 76% but overall operating costs reduced by only 46%.
Emirates transported 88% fewer passengers, a total of 6.6 million, with an average passenger load factor of 44.3% – far down on the previous year's 78.5%.