Emirates recorded an impairment of Dhs500 million ($136 million) in its full-year 2020-21 figures specifically relating to certain aircraft which it does not expect to return to service before they reach end-of-life or their leases expire.
Over the course of the year the carrier took delivery of three A380s and retired 10 older aircraft – one A380 and nine 777-300ERs.
Another four A380s were removed from service because they are grounded and "not expected to be used" before their scheduled retirement within the next year, says Emirates.
Outside of the specific aircraft write-off, parent company Emirates Group did not recognise any impairment with respect to the airline cash-generating unit.
It based its assessment of the recoverable amount of the airline unit, compared with its carrying value, on current and anticipated market conditions to 2024-25 – although the company acknowledges these projections are "inherently uncertain".
But it says it is assuming gradual recovery of airline operations to 90% of pre-crisis revenues by the 2023-24 fiscal year.
Emirates was left with a fleet of 113 A380s and 146 Boeing passenger aircraft at the end of March 2021. Its SkyCargo division also has 11 Boeing 777Fs.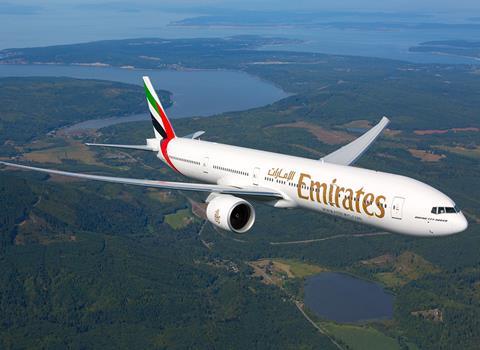 The airline says its order book for 200 aircraft "remains unchanged at this time". These 200 aircraft comprise five Airbus A380s, 50 A350-900s, 115 Boeing 777Xs and 30 787-9s.
Emirates has options on 61 additional 777Xs.
"The airline is firmly committed to its long-standing strategy of operating a modern and efficient fleet," it says, adding that newer aircraft are "better for the environment, better for operations, and better for customers".
Emirates generated a full-year loss of Dhs20.3 billion including the Dhs500 million fleet impairment.
Parent Emirates Group's overall costs for 2020-21 reduced by nearly 44% to Dhs51.2 billion. While depreciation, amortisation and impairment charges across the company rose only marginally, to Dhs19.7 billion, they became the largest component of total costs for the year.
Ground-handling division Dnata was also affected by impairments. Emirates Group says future cash-flows of the various businesses "struggled to support" underlying carrying values.
Impairments of Dhs766 million included Dhs255 million in travel services, Dhs208 million for airport operations, Dhs232 million for in-flight catering and another Dhs71 million for corporate assets.
Dnata turned in its first-ever full-year loss of Dhs1.8 billion including these impairment charges.