Middle Eastern carrier Emirates is to join the market for Israeli flights, with daily services to Tel Aviv starting in the first week of December.
Emirates says it will open the link following the diplomatic normalisation between Israel and the United Arab Emirates agreed last year.
Ties between the two sides have flourished since the Abraham Accords protocol was concluded, with several carriers – among them Etihad Airways, Flydubai, El Al and Israir – declaring plans to open UAE-Israel connections.
Israeli companies will exhibit at the Dubai air show in November, and Israel is represented at the flagship Dubai Expo event.
Emirates says it will commence services on the Dubai-Tel Aviv route on 6 December using Boeing 777-300ERs configured in three classes. The carrier's SkyCargo division will be able to offer 20t of freight capacity on the type, supporting Israeli export of pharmaceuticals, technological goods, and perishables.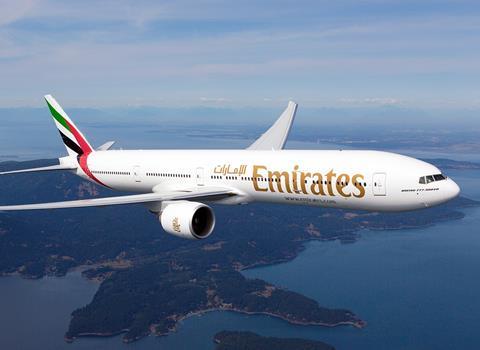 "The flight timings to and from Tel Aviv will offer travellers convenient access to major leisure destinations beyond Dubai," adds the carrier, as well as inbound links to Israel from nearly 30 gateways.
"Emirates' new flights will also boost connections for business communities in both countries, creating new channels to network and forge investment opportunities across industries."
Passengers will benefit from Emirates' codeshare arrangement with Flydubai.
Emirates chief commercial officer Adnan Kazim describes Tel Aviv as "one of the region's key gateways", and the new service will provide customers with "more options". The carrier's in-flight catering arm had previously moved to establish production for kosher meals, and these will be an option on the airline's flights.