Middle Eastern carrier Emirates is consolidating freighter operations at Dubai International from 1 April, suspending operations at the city's Dubai World Central hub.
Emirates is re-organising its freight network in response to the disruption from the coronavirus crisis.
It says the decision to concentrate on Dubai International, the main passenger airport, will enable it to "streamline" its SkyCargo services given that dedicated cargo flights are being conducted using aircraft from the airline's Boeing 777-300ER passenger fleet.
Emirates operates a fleet of 11 Boeing 777 freighters but its passenger 777s are capable of transporting 40t of payload on their lower decks.
These aircraft will be deployed on a revised schedule of all-cargo services, the carrier states.
"Schedules and destinations for the dedicated cargo flights on passenger aircraft have been planned keeping in mind optimal interconnectivity with Emirates' scheduled freighter operations," it adds.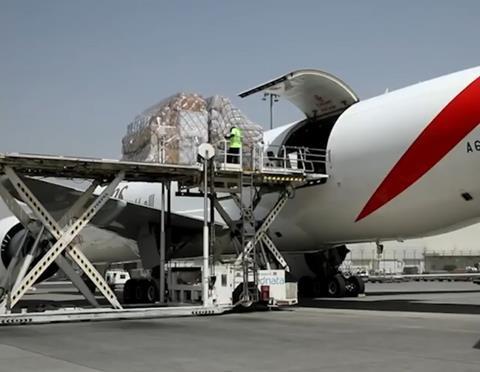 Passenger-freighters are primarily being used on nine routes to India and Pakistan, around 13 in the Gulf and Africa, eight in Europe, and single connections to Korea, Japan and Australia.
Full-freighter services are being used to serve some 20 destinations including those in China, the USA and Mexico. Some routes such as Madrid, Frankfurt and Khartoum will have both full-freighter and passenger-freighter links.
"We have been able to establish a new network and schedule for our cargo operations within a very short period of time," says Emirates divisional senior vice-president for cargo Nabil Sultan.
SkyCargo has been assisting with specific medical support efforts including transport of coronavirus testing kits from Guangzhou to Sao Paulo, face-masks from Hong Kong to Sydney, and hospital equipment to Milan, and pharmaceuticals to New York.
Emirates says the SkyCargo operation will conduct charter and ad hoc flights alongside its new scheduled network, according to demand.