Ethiopian Airlines is completed the freighter conversion of an initial Boeing 767-300ER in co-operation with Israel Aerospace Industries.
The work was performed within the carrier's maintenance facilities at its Addis Ababa base.
Ethiopian says it began introducing the 767s in 2004 and the twinjets are being replaced by more modern types, such as the 787, in the passenger role.
"Conversion of the aircraft into freighters also boosts the airline's cargo shipment capacity and enhances its service," it adds.
Ethiopian disclosed a modification tie-up with IAI just over a year ago.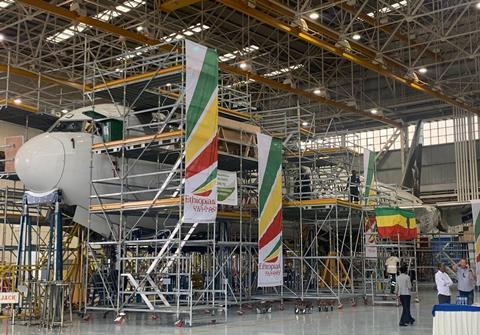 "As a fast growing airline, our partnership with IAI – one of the global technology leaders in the aerospace industry – is crucial in technology and skill transfer in the field of maintenance, repair and overhaul," says Ethiopian group chief Mesfin Tasew.
"The converted 767 aircraft will augment our growing local and international cargo destinations with more load capacities.
"We have been working to expand our cargo operation as demand is expected to grow with the establishment of e-commerce hub in Addis Ababa."
Ethiopian had previously modified around 25 of its twin-aisle passenger aircraft to serve temporarily as freighters for medical supplies during the pandemic.
It commenced conversion of the first 767 into a full freighter at its capital facility early this year, while a second aircraft has reached the point of door-cutting.