Ethiopian Airlines has taken delivery of another pair of Airbus A350-900s, both aircraft being handed over on the same day.
The aircraft – MSN412 and MSN431, respectively ET-AYB and ET-AYA – departed Toulouse almost simultaneously for Addis Ababa in the early hours of 7 November.
Ethiopian chief executive Tewolde Gebremariam says the aircraft are fitted with a new business-class cabin which will give the carrier a "strong competitive advantage" in the "high-end" market segment.
"It is also visible evidence of our unique strength in the industry that we are able to take delivery of two brand new widebody aircraft during the worst and unprecedented global crisis – in which most of our competitors are depending on bail out money for their survival," he adds.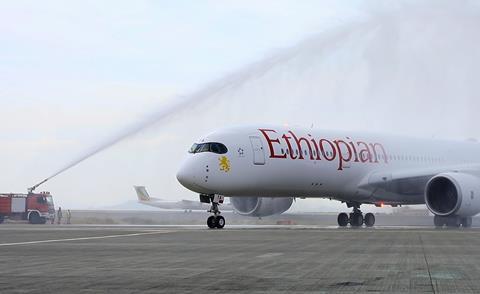 Gebremariam claims the introduction of the additional A350s is a "strong demonstration" that the carrier is handling the situation "exceptionally well".
He says Airbus has restructured the carrier's delivery schedule and refers to "other incentives" which have enabled the airline to complete the delivery.
Gebremariam points out, however, that the company remains in "crisis management mode" and needs to continue cost-saving and revenue-maximising efforts.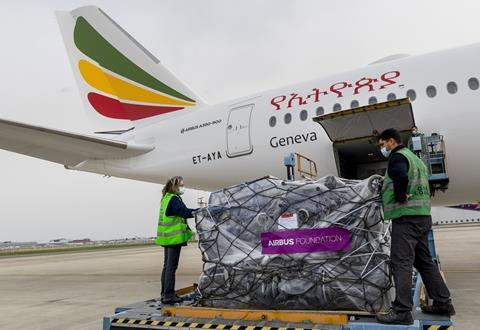 Ethiopian states that its A350 delivery flights carried humanitarian medical equipment. Airbus says nearly 5t of equipment has been transported.
The carrier's fleet had recently expanded with the introduction of two more De Havilland Canada Dash 8-400 turbprops – MSN4615 and MSN4617 – just over 10 years after it accepted its first.
Gebremariam says the Dash 8s support the carrier's "cost-leadership strategy", particularly necessary in the current circumstances.