United Arab Emirates carrier Etihad Airways is to open full services between Abu Dhabi and the main Israeli hub at Tel Aviv, from the end of the winter season.
Etihad Airways will serve the Tel Aviv route daily, and year-round, from 28 March next year. Its reservations system indicates it will use Airbus A321s on the link.
The airline's decision underpins the new relationship between the UAE and Israel following the normalisation of diplomatic relations, reinforced by the signing of the Abraham Accords in mid-September.
Etihad says its Tel Aviv flights will be "conveniently timed" to enable connections through Abu Dhabi to destinations in China, India and other parts of the Asia-Pacific region.
The carrier had already demonstrated closer ties with Israel following the normalisation pact, operating a commercial service on the route on 19 October.
But a new air services agreement between the two sides has prompted Etihad to schedule a regular connection.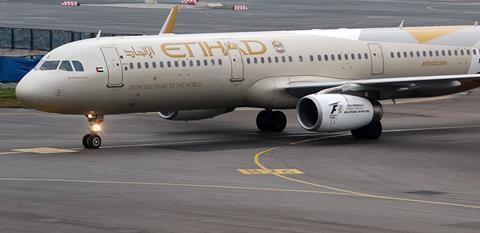 "Commencement of scheduled flights is a historic moment," says chief operating officer Mohammad Al Bulooki. "[It] cements Etihad's commitment to growing opportunities for trade and tourism – not just between the two countries but also within the region and beyond."
Etihad says the route will stimulate tourism to Abu Dhabi and give UAE citizens to discover and experience Israeli historical sites and cultural life.
UAE operator Flydubai – which has close links with Dubai-based Emirates – has disclosed it is opening services between Dubai and Tel Aviv towards the end of November.
Israeli leisure carrier Israir is advertising services from Tel Aviv to Dubai, with package holidays that include onward transport to Abu Dhabi and Sharjah. It is also opening services to Bahrain, following a similar normalisation agreement between Israel and the Gulf kingdom.