Middle Eastern operator Etihad Airways managed to halve operating losses to $400 million over the first six months of the year.
It says the recovery has been "progressive" despite a slower-than-expected return to air travel worldwide.
Etihad transported 1 million passengers over the first six months – generating passenger revenues of $300 million – but load factors remained suppressed at just under 25%.
But cargo revenues benefited from a strong freight performance, reaching $800 million.
The airline says it has kept a "singular focus on cost control", with operating costs falling to $1.4 billion, and has rebuilt its liquidity position to pre-pandemic levels.
Etihad states that its EBITDA figure became positive over the period, reaching $100 million compared with last year's loss of the same magnitude.
"Every day, Etihad Airways is making up for lost ground," insists group chief Tony Douglas, adding that bookings surge as new destinations are cleared for access.
"There is a tidal wave of demand waiting to be unleashed."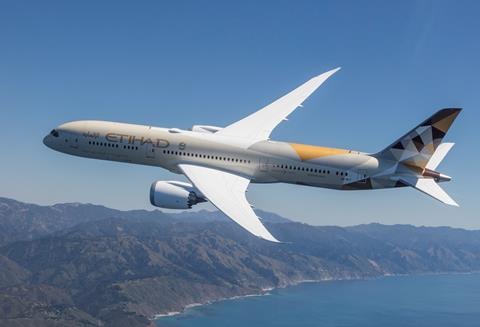 Capacity over the first half was around 70% of that in the same period in 2020. The airline has expanded its network during the six months from 50 destinations to 60.
The airline is operating 64 aircraft – with much of its fleet still in storage – and says the Boeing 787-9 and -10 are serving as the "backbone" of its operation. Its active fleet includes five freighters.
Freight transport has "continued to buoy the business", says chief financial officer Adam Boukadida, but the company has strengthened its underlying fundamentals, placing Etihad in a "better position to maximise the value of passenger revenue" as volumes recover.
"While the pandemic still poses challenges, Etihad is on the path to becoming a sustainable and profitable business," he adds.