Middle Eastern carrier Etihad Airways has signed a preliminary agreement for seven Airbus A350 freighters, potentially taking the number of customers for the new aircraft to five.
Etihad was previously a customer for the A330-200F, ordering and receiving five of the type, before withdrawing them during a fleet overhaul. The aircraft subsequently passed to DHL's European Air Transport operation.
The airline has signed a letter of intent for the A350Fs during the Singapore air show.
Etihad Aviation Group chief Tony Douglas describes the twinjet – powered by Rolls-Royce Trent XWB engines – as a "remarkable aircraft".
The carrier's passenger fleet includes five A350-1000s, on which the A350F has been largely based.
Etihad still has 15 A350-1000s on order, but it is unclear whether the A350Fs will be additional or converted from this backlog. US lessor Air Lease, a launch customer for the A350F, cut back its own commitment to the passenger A350 after firming the freighter order.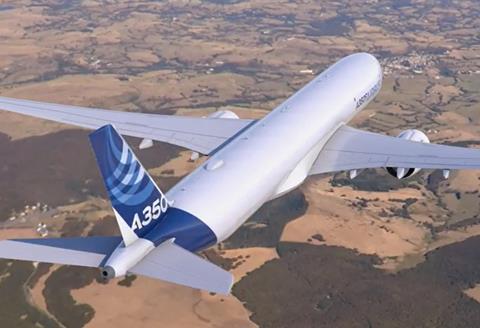 Etihad had originally been one of the strongest backers of the A350, ordering 25 A350-1000s in 2008 before trimming the order back to 12 after the -1000 underwent a redesign.
But Etihad subsequently reinforced its enthusiasm for the A350 with an order for another 50 – comprising 40 of the -900 and another 10 of the -1000 – in 2013.
This commitment to 62 aircraft, however, remained unfilled on Airbus's books for more than five years until early 2019 when, as part of a wide-ranging fleet restructuring to counter heavy losses, the airline cancelled 42 of the A350s – including all the -900s.
Etihad stated that its fleet requirements included just five A350-1000s and it took delivery of these five over the course of 2019-20, leaving 15 on its backlog.
The airline has yet to firm the A350F agreement.
But Douglas says: "As our cargo operations continue to over-perform, and we work towards a more sustainable future built upon the world's youngest and most fuel-efficient fleet, the addition of the A350F will play a key role in driving our long-term cargo strategy."
He adds that the aircraft will help the carrier to reach its carbon emission reduction targets.
Airbus will support the airline's A350 fleet through a new flight-hour services agreement.
Along with Air Lease, the A350F has attracted customers including Air France, Singapore Airlines, and French cargo operator CMA CGM Group. Total orders and commitments have reached 29 aircraft.