The FAA has proposed to levy a $3.9 million fine on Southwest Airlines for operating more than 20,000 commercial flights with incorrect weight and balance calculations, potentially putting the safety of the flights at risk.
The violations took place between 1 May and 9 August 2018, on 21,505 flights with 44 aircraft, the FAA alleges. The incorrect data included empty weight, centre of gravity or moment data. This information is used to determine the number of passengers and amount of fuel that can be carried, and how cargo is loaded, the FAA says in a statement on 10 January.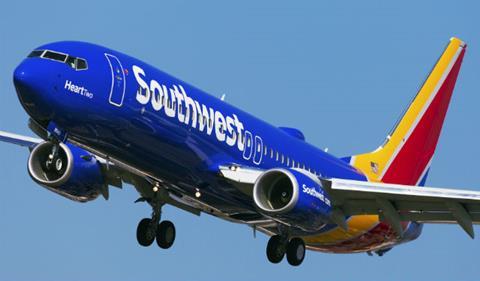 "Southwest's operation of these aircraft was contrary to the airline's approved weight-and-balance programme and FAA-issued operations specifications," the FAA says.
Weight and balance calculations on any aircraft are critical to flight safety. Faulty or incomplete calculations can compromise the aircraft's structural integrity, and lead to tail strikes upon take-off or control difficulty in the air.
Southwest has 30 days after receiving the FAA's enforcement letter to respond to the allegations.