Fastjet Group's Federal Airlines division has entered a restructuring process and given up most of its aircraft after a severe downturn in its business conducting shuttle and charter services to safari reserves in southern Africa.
FedAir primarily serves US and European tourists but the coronavirus situation has badly affected these originating markets.
Most of FedAir's passengers have deferred travel into the fourth quarter of 2020 or the first half of 2021, the summer season in the southern hemisphere.
As a result the carrier is not expecting substantial shuttle or charter bookings for "at least the next six months", says Fastjet Group, with passengers only starting to return from December.
FedAir has entered a restructuring process and has laid off 55% of its full-time personnel, while the rest have had salaries cut or modified. It has retained a limited number of crew members to operate its six remaining aircraft, which will form the core fleet for the remainder of the year.
"Lack of any material revenue from the FedAir traditional shuttle and charter business will place significant strain on FedAir's cash-flow and resources," says Fastjet Group, adding that the restructuring will pare back the company to the "minimum required" to protect the core business without losing specialised skill.
FedAir will need additional cash-flow of approximately $1 million by the end of this year, and Fastjet Group says "all options" for sourcing the capital, including loans secured against aircraft or a new rights issue, are being explored.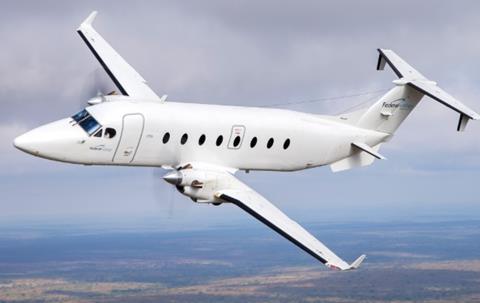 The carrier has 14 aircraft with types including Beech 1900Ds, Cessna 208s and Pilatus PC-12s.
Fastjet Group says that a "significant proportion" of this fleet, leased on a per-hour cost basis, has been "terminated".
FedAir is retaining four aircraft it owns as well as two third-party 1900Ds which will be leased for the foreseeable future. The carrier says the debt levels on the owned aircraft is low, and it is holding talks to defer capital repayments until December 2020.