Fiji Airways is set to be the first Asia-Pacific carrier to return the Boeing 737 Max into service, after Fijian civil aviation authorities lifted the grounding of the narrowbody.
The Nadi-based carrier did not disclose a timeline for the type's service re-entry, except to say that it is continuing to work with regulators "to bring the Max aircraft into service, albeit for the limited number of freight and repatriation flights we currently operate".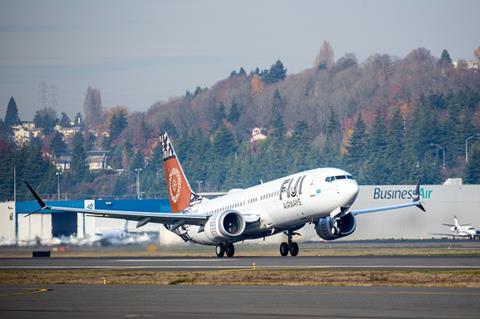 The Civil Aviation Authority of Fiji's move to lift the flight ban on the 737 Max follows similar moves by its counterparts in Australia and New Zealand.
In late February, Australia was the first country in the region to lift the flight ban on the 737 Max. Days later, New Zealand authorities said they supported the lifting of the type's grounding, but stopped short of issuing a blanket approval for the 737 Max.
The aircraft remains grounded in most parts of the region, following two fatal crashes in 2018 and 2019 that killed 346 people.
Fiji Airways, which currently has two 737 Max 8s in storage and another three on order, operated the aircraft to Australia, and intends to fly them into New Zealand.
Fiji Airways managing director and chief executive Andre Viljoen says its 737 Max full-flight simulator is already being used to bring its pilot and technical crew "up to speed with all the new and additional requirements following the re-certification of the Max aircraft".
He adds: "The past eight months have been spent planning for the aircraft's eventual re-certification and reviewing all return-to-service requirements from our regulators. I am proud of our prior investment in mandatory training for our pilots in a full-flight simulator for the 737 Max, over and above the minimum requirements when we initially introduced the aircraft into our fleet."
A growing list of countries globally have lifted the grounding of the 737 Max, including the United States, which was the first to do so; the European Union, Canada, as well as Brazil.