Finnair is not ruling out the possibility of shedding personnel as part of an operational strategy revision intended to counter the weakening of its Asian route network.
Asian services were among the most profitable in the Finnair network, and have been the platform on which it has developed Helsinki as a connection hub over the last two decades – capitalising on its position close to efficient European-Asian flight routes.
But the closure of Russian airspace has sapped this benefit and substantially increased flight times on certain Asian routes, while also putting others out of the reach of its Airbus A330 fleet.
"We do not have a unique geographical advantage anymore," said Finnair chief executive Topi Manner, speaking during a 7 September briefing on the strategic changes.
He adds that the Chinese market remains difficult, with travel still curtailed owing to the pandemic.
Finnair is not abandoning Asia, he stresses, but will "cut back" on secondary cities. The airline will continue to focus on the "most profitable" destinations, he says, and its winter schedule features Tokyo, Seoul, Hong Kong, Shanghai and Guangzhou.
The airline will also operate to Bangkok, Singapore and Phuket.
But Manner says that Indian routes will "play a stronger role". Finnair is opening services to Mumbai to complement its Delhi operation.
It is also aiming to build more Middle Eastern connections, with new services to Doha in Qatar, while balancing the network with transatlantic flights to North American cities including New York, Los Angeles, Miami and Dallas.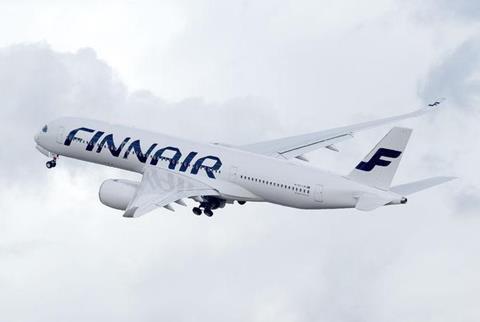 Manner says Finnair will "optimise and reduce" the fleet, basing it on network demand, but he is reluctant to detail its likely size and composition.
"A balance of narrowbodies and widebodies will be needed to maintain our kind of network," he states.
He says the Airbus A350 fleet is operational, bar a couple of aircraft undergoing refurbishment under an investment programme to enhance the long-haul product. Three A350s, however, are wet-leased to Eurowings until the end of March next year.
These leases, says Manner, have proven to be a "good and profitable move".
Finnair is redeploying A330s to serve the new Doha routes. Manner says the applicability of these aircraft was "quite limited" after the Russian airspace closure, owing to their range, but they are "very suitable" for the Middle Eastern services.
"One important factor impacting the size of fleet will be demand we're seeing on the market," he says. "Especially the opening of China."
Finnair has previously given guidance that it will operate 80-85% of pre-pandemic capacity in the fourth quarter, and Manner says this "gives some idea" as to the capacity the network can absorb.
Manner says the airline will look to offering high-quality, differentiated service for its long-haul operation, while concentrating on the "smoothness, simplicity and efficiency" in short-haul services.
Finnair's new strategy aims to take advantage of Oneworld and other partnerships, including that with China's Juneyao Air. Such co-operation, says Manner, is a "way to seek scale beyond our size".
Several options to achieve further cost savings are being explored, and the airline has started discussing these with its staff.
Manner says he cannot rule out a reduction in personnel, pointing out the more "permanent" nature of the current challenges compared with those of the pandemic which, he says, were bound to "blow over".