Finnair Group has turned in its first quarterly comparable operating profit for nearly three years, although it still generated a net loss for the period.
The company attributes the performance – a comparable operating result of €35.2 million ($35 million) in the quarter to 30 September – to "pent-up demand" and seasonal effects.
But it reiterates that its full-year comparable operating result will be "significantly negative" for a third consecutive year.
The airline says "significant uncertainty" in its operating environment is continuing, with pressures including the price of fuel, the closure of Russian airspace, and the effect of inflation on demand and costs.
Finnair estimates that, for the fourth quarter, its capacity will remain 30% down on the pre-crisis level – although this reduces to 15-20% if lease of aircraft and crews to other airlines is included.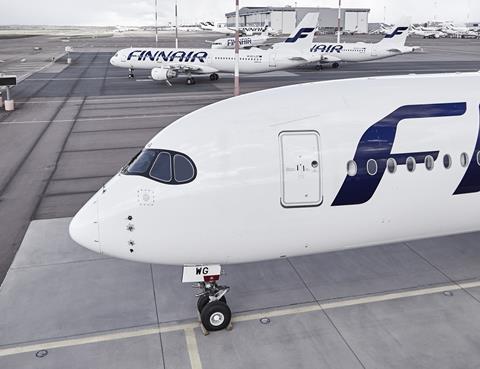 "A positive operating result in the seasonally-strongest third quarter is a step to the right direction," says chief executive Topi Manner.
"But we have a long journey ahead of us to nurse the company back to health."
The company has been drawing up a revised strategy to strengthen its financial position and restore annual profitability, adjusting its network to offset the effect of Russian airspace closures.
While efforts to reduce costs, improve sales and optimise revenues "started to become visible" during the third quarter, says Manner, heavy debts and exchange losses contributed to a net loss of €37.2 million.
"As a part of our efforts to lower unit costs, negotiations with the personnel about changes to employment terms are progressing and we have reached conditional negotiation results with two of our unions," he adds.
"We are also seeking savings from other cost items. Further, we started discussions with our personnel after the period to streamline the company's structures globally.
"Strategy implementation will proceed at pace in every area and needs contribution from all stakeholders."