Finnair is axing domestic flights to two key Finnish cities, Tampere and Turku, replacing them with a bus service.
The carrier is citing "economic and environmental considerations" for the decision to cut the air links, which takes effect from 1 May.
Finnair, which uses ATR 72 turboprops on the routes, had already swapped some flights to the bus. When it removes the flights completely it will offer four bus connections daily to each city.
Road and rail connections to Helsinki are a "more sustainable option", states Finnair network vice-president Perttu Jolma.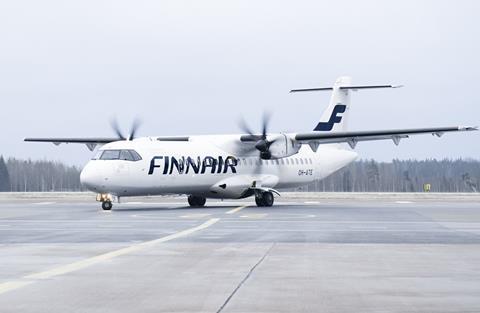 Finnair adds that the flights to both cities are short, about 25min, and that the low load factors – around 35% – mean their environmental impact per passenger is relatively high.
"We understand that this decision disappoints customers who have used the flights, and we regret the inconvenience this causes them," says Jolma.
"We must, however, take both economic and environmental considerations into account."
Finnair points out that "most customers" already use road or rail to travel from Tampere to the Helsinki hub, and that this had been the case before the pandemic.