Finnair is to reduce its fleet size and restructure its route network after its fundamental strategy of serving Asian destinations was undermined by the closure of Russian airspace.
The rebalancing of its network and re-alignment of capacity are part of a broad set of measures aimed at restoring profitability, after the airspace closure resulted in a 15-40% increase in flight times to Asian cities, increasing costs and making the carrier's product less appealing to passengers.
Finnair intends to reduce unit costs by around 15% from the pre-pandemic levels of 2019, a figure which excludes fuel but includes the cost savings achieved since.
It has cautioned that the cost target includes personnel expenditure and that it will discuss with staff a number of avenues including adjustments in employment terms, while examining the potential outsourcing of certain activities including cabin service on particular routes.
The airline says its network will concentrate on connecting Europe to destinations in North America, Asia, India and the Middle East, adding that it will maintain a "strong" domestic presence.
It will capitalise on its Oneworld alliance partnership and joint businesses, the company states, to reinforce its network and distribution.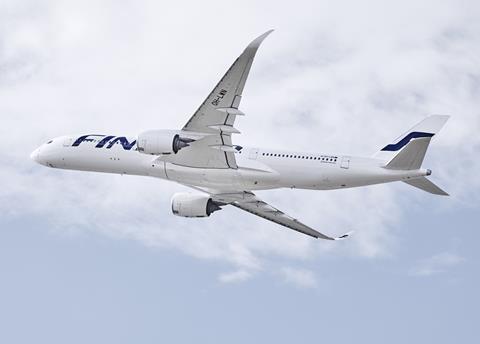 Finnair has yet to detail the fleet changes but has previously stated that its widebody fleet is unlikely to be fully deployed while Russian airspace – crucial to offering connections between Helsinki and several Asian destinations – remains inaccessible.
The carrier had 56 aircraft in operation at the end of June, among them 17 Airbus A350s and eight A330s. It also has 31 Airbus single-aisle jets.
Two more A350s are due for delivery towards the end of 2024 and the beginning of 2025.
The airline entered agreements earlier this year to lease A350 capacity to Lufthansa Group's Eurowings as well as A321s to British Airways during the summer. It has also recently unveiled plans to put A330 capacity on new connections to Oneworld partner Qatar Airways' hub in Doha.
Finnair ended the first half with an operating loss of €258 million ($255 million) and a net loss of €492 million.
Its new strategy sets out a return to profitability "regardless" of the Russian airspace closure, with a target of comparable EBIT of 5%, at least, from mid-2024.
"Changes in our operating environment require a new strategy and significant renewal of Finnair, especially related to costs", says chief executive Topi Manner.
The airline says "significant" structural changes are necessary to remain competitive.
It seeks to strengthen unit revenues through enhanced digital offering, competitive products and customer choice.
Finnair will also look to cut costs by undertaking contract negotiations with suppliers and taking other steps in its operation.
Manner says the strategy will "build a leaner Finnair" but says this will require "profound change" across the carrier. He points out, however, that the airline has demonstrated, during the pandemic, its ability to "adapt and renew under the most challenging circumstances".