Finnair is again hiking its target for permanent cost savings from 2022, raising it to €140 million ($165 million) from the previous level of €100 million.
It had already increased the target in August, lifting it from the original figure of €80 million.
The Nordic carrier disclosed the change as it unveiled third-quarter operating losses of €183 million, after an 89% fall in revenues in the three months to 30 September. This took its overall operating loss for the first nine months of this year to €450 million.
It is expecting the comparable operating loss, which reached €167 million in the third quarter, to be "of a similar magnitude" in the fourth.
Finnair estimates capacity for 2020 will be 70% down compared with last year.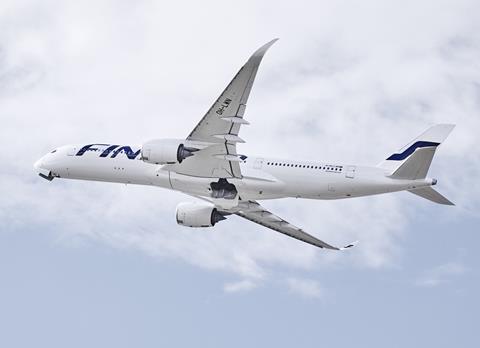 "Travel restrictions, which are particularly strict in Finland, led us to deviate from our plans and we continued to operate a restricted network throughout the [third] quarter," says chief executive Topi Manner, adding that visibility on market development is "exceptionally limited".
"During the winter season, we will continue to operate a somewhat limited network, as the strict travel restrictions have had a significant impact on demand."
Finnair has made good progress in the cost-savings programme, the company states, and has also identified new savings opportunities. Savings are being sourced across the company's operations – including aircraft leasing, IT, sales, real estate and administration.
The airline has also found a way to amend pension fund terms in order to achieve a one-off positive effect of €85 million on its overall fourth-quarter operating result, although this will not affect the comparable figure. This effect could increase "significantly", it adds, although the changes have yet to be fully approved.
Finnair is expecting to shed nearly 1,100 personnel compared with the staff level at the beginning of the year. This comprises 700 job cuts with the remainder achieved through retirement and attrition.
"As part of the [cost-saving] programme, the company has concluded agreements with some of its employee groups targeting permanent cost savings," says Finnair.
"The employee groups committed to the permanent savings target participate in an incentive plan which is rewarding the employees for successful rebuild efforts."
Finnair is working on the basis of traffic recovery in two or three years, with a steepening in the later part of the period.
"Our industry needs harmonised Europe-wide travel standards and testing practices in order to enable both industry players and travellers to execute on their respective plans," insists Manner.
He points out that Finnair's balance sheet is "healthy" and its cash position is "strong", as a result of measures including bond refinancing and the sale-and-leaseback of an Airbus A350.