Malaysian regional carrier Firefly – most recently the subject of speculation that it might become the country's flag carrier – will commence jet operations from next year, reverting to an earlier plan which was eventually shelved.
Announcing the move, parent company Malaysia Airlines says the carrier will add up to 10 narrowbody aircraft to its fleet "in phases" from the first quarter of next year.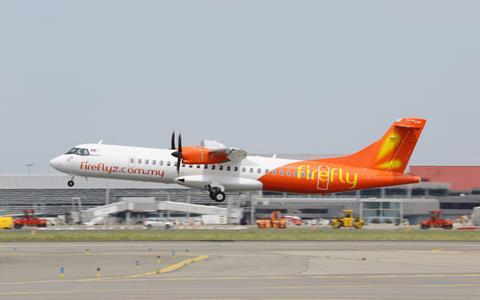 While it did not specify what aircraft Firefly will induct, Malaysia Airlines notes that there is "the possibility of deploying" its own Boeing 737-800 aircraft into the Firefly fleet.
The aircraft will be based at Firefly's second hub at Penang, and will serve points within Malaysia, as well as other countries in Southeast Asia such as Singapore and Thailand.
The move will also allow parent Malaysia Airlines to "focus on its network serving the premium market".
It is not likely to impact Firefly's existing turboprop fleet, which is based at Sultan Abdul Aziz Shah airport in Subang. Cirium fleet data indicates Firefly operates a fleet of 10 ATR 72-500s, with two more in storage. It also has two ATR 72-600s on order.
This is not Firefly's first foray into jet operations. In 2011, the carrier briefly operated 737-800s, before Malaysia Airlines took over its jet services.
Group chief executive at Malaysia Airlines Group Izham Ismail notes that the move to jet operations from Penang is "in line with" the group's long-term business plan.
"Based on available forecasts, domestic and short-haul travel will be most preferred in the current environment, hence it makes commercial sense for Firefly to supply this demand but from the northern region," adds Izham.
Malaysia Airlines Group is itself undergoing a restructuring exercise, as it tries to stave off further losses amid a collapse in travel demand from the coronavirus outbreak.
The carrier adds that the setting up of jet operations in Penang "requires minimal investment" from the group, but will bring about an "expected increase" in ASKs – by more than 36% over the next five years.
However, Malaysia Airlines gave no indication if this latest announcement had anything to do with reports that Firefly could become Malaysia's next flag carrier if the former's restructuring plan falls through.
As recently as 14 October, Malaysian sovereign wealth fund Khazanah Nasional, which owns Malaysia Airlines, was reported in local media as suggesting that Firefly could replace its parent as national carrier should Malaysia Airlines fail to reach an agreement with creditors on restructuring plans.
This followed earlier reports of Izham saying that he had "no choice but to wind up" Malaysia Airlines if the restructuring plan does not go through.
A "Plan B" floated by Izham could involve shifting Malaysia Airlines' air operator's certificate to a new airline under a different name, or leveraging on the AOCs of subsidiaries Firefly and MASwings. In the "Plan B" scenario, Firefly would acquire narrowbody aircraft and subsequently widebody aircraft from the market.
Responding to FlightGlobal's queries, Malaysia Airlines reiterated that the plan is part of the group's long-term business plan, "which focuses on strengthening the revenue streams of each subsidiary".
It adds: "Complementing [Malaysia Airlines'] jet services will propel Firefly to achieve that target while diversifying its base."
Story updated with Malaysia Airlines' response.