British Airways' final pair of London Heathrow-based Boeing 747-400s have departed the UK hub, following the airline's decision to retire the type from service.
Aircraft G-CIVB, painted in the 'Negus' heritage livery for the airline's 100th anniversary, lifted off at 08:40 on 8 October, followed immediately by G-CIVY about 1min later.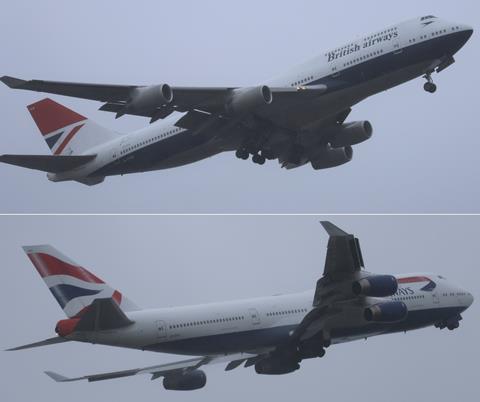 G-CIVB is bound for Kemble while G-CIVY is destined for St Athan in Wales.
BA had originally planned for the aircraft to depart simultaneously from Heathrow's parallel runways but both ultimately took off sequentially from runway 27R.
Rain and drizzle had reduced visibility to around 4,000m at the time, with overcast cloud at the low base of 1,500ft.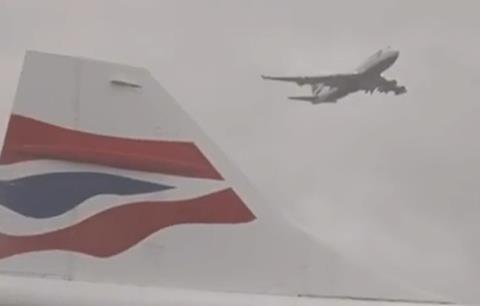 But the airline managed to conduct a flypast at about 1,000ft along the southern runway 27L by G-CIVY just before 09:00. This aircraft carries the current BA livery.
BA chief Alex Cruz says the occasion of the final Heathrow departure for the aircraft is a "difficult day".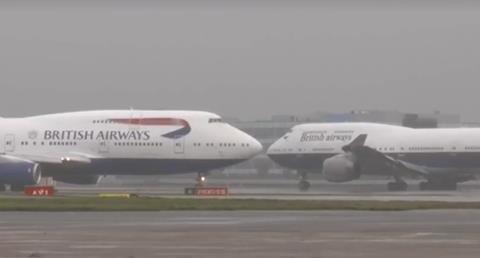 The carrier has positioned its remaining 747-400s in Wales and expects to retire them fully from the fleet by the end of this year.
Aircraft G-CIVB entered service in February 1994 and carried out its last passenger flight, from Miami, on 6 April, while G-CIVY, which arrived in September 1998, conducted its last passenger service from Chicago on 20 March – although it operated as a freighter until 5 April.
British Airways has operated the 747 since April 1971, in its previous guise as BOAC, and received its first 747-400 in July 1989.