Israel's Global Knafaim Leasing is injecting additional capital into Cypriot carrier Tus Airways, via a share issue, the lessor reveals in its third-quarter financial statement.
It says that the board approved the extra investment of $2 million on 30 November.
Investment partner Kenneth Woolley has similarly contributed in order to maintain the ownership balance in which Global Knafaim Leasing holds 49.9%.
The lessor's board has also approved additional investment of up to $1.5 million, depending on what is needed, to the end of the second quarter of next year.
Global Knafaim says that Tus is a relatively new "stand-alone" company and is being funded from continuing operations and owner investments, rather than external entities.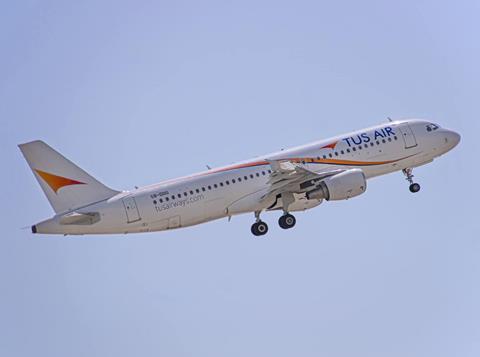 The lessor is to undertake a rights offer to its shareholders amounting to some 21 million shekels ($6 million), with some of the proceeds to be used for the Tus investment.
Global Knafaim had previously provided, in June, a loan of $2 million to Tus with a term of two years unless the lessor embarked on a capital raise to repay it sooner.
Tus Airways operates a fleet of five Airbus A320s, one of which has been operating as a wet-lease for another carrier until March next year.