South Africa's government has expressed doubts as to whether the long-awaited business rescue plan for South African Airways will meet its expectations for creating a viable and sustainable national carrier.
Publication of the plan has also drawn condemnation from the opposition Democratic Alliance party, which says the strategy relies on a R32.65 billion ($1.9 billion) bailout from the government.
The government's department of public enterprises points out that the rescue practitioners, who have overseen SAA's management since early December last year, have been granted a "substantial" period of time and "significant" resources to restructure the airline.
"We will assess the plan which, we are concerned, might have not been adequately accomplished," it states.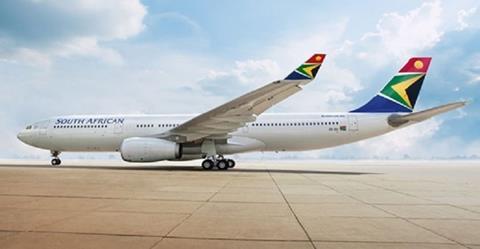 But the Democratic Alliance has dismissed the bailout as "ridiculous" and will urge finance minister Tito Mboweni to oppose it.
It says the cash required over the next three years includes R16.4 billion for lenders, another R2.2 billion for personnel retrenchment, creditor payments of R2.3 billion, and R3.2 billion to address ticket claims.
Mango Airlines, maintenance division SAA Technical, and catering operation Air Chefs account for another R2.1 billion. SAA trading losses will add a further R6.4 billion.
The Democratic Alliance says it also plans to write to the competition regulator to request an investigation into the proposed bailout.
"We are of the view that it violates the Competition Act, as the airline will get an unfair competitive advantage over the other South African airlines," it adds.
"Of the limited options left for SAA, another bailout must not be on the list."
It insists that liquidation of the carrier is the "only realistic option" rather than pouring further public funding into a "bankrupt black hole" that has "not contributed anything to our economy for 10 years".