South African Airways' creditors are set to decide the future of the troubled flag-carrier, more than half a year after it entered a business rescue scheme, with the government urging support for a new business plan.
At least 75% support from creditor voting interests, following a meeting due to be held on 25 June, is necessary to back the plan.
"Should creditors vote not to support the business rescue plan, SAA would face liquidation," warns the government's department of public enterprises.
Liquidation would result in creditors receiving "substantially less" for debts owed, it says, as well as loss of opportunities to supply the resurrected airline with various business services, and capped severance benefits for all retrenched personnel.
Supporting the business plan would result in a "better return" for these parties, it argues.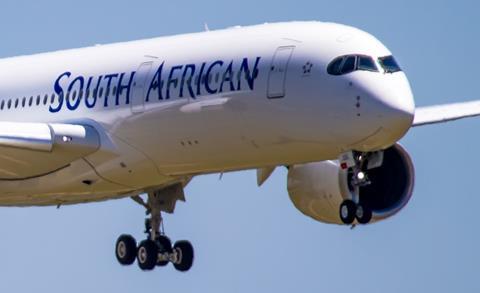 The government has strongly backed a revival of SAA, and has recruited the support of key unions in its campaign.
But the future of the airline is likely to depend on whether the main financial institutions are convinced that the rescue plan – which would substantially shrink the airline, cutting aircraft and staff numbers – is viable.
Before entering business rescue, SAA held R9.2 billion ($527 million) exposure to lenders including Nedbank, ABSA, Investec, Standard Bank, and FirstRand. These five firms also subsequently provided R2 billion in funding to the rescue process.
The five companies collectively hold 47% of the creditor vote, while another 15% is held by the government-owned Development Bank of Southern Africa, which provided R3.5 billion in finance to the SAA rescue practitioners.
"The [department] believes a positive vote to finalise the business rescue process would be the most expeditious option for the national carrier to restructure its affairs," says the government.
"Finalisation of the business rescue plan and the emergence of the new airline would allow unions and other key stakeholders. who have deep knowledge of the sector, to be co-creators of a new airline as well as coming up with novel ways of addressing the interest of the displaced workers."
Attempts by regional carrier Airlink to force liquidation of SAA through a court appear to have failed. While the government had condemned the Airlink bid, and believed unions might be plotting the same, the NUMSA and SACCA unions have disclosed that they attended court because they actually opposed Airlink's "opportunistic attempt to sink the airline".