Greek carrier Sky Express has received its first Airbus A320neo, one of six aircraft destined to be delivered to the airline.
Sky Express says it aims to open Athens-Thessaloniki services on 14 December.
The aircraft (SX-IOG) is powered by CFM International Leap-1A engines and, according to Cirium fleets data, is leased from US-based Aviation Capital Group.
Sky Express, which uses ATR turboprops, received the twinjet on 27 November and says it will deploy the type on other routes including Athens-Rhodes.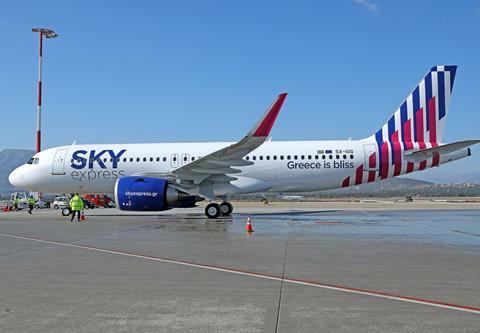 Aviation Capital Group stated recently that it would supply four A320neos to the carrier. The second will arrive in December, with two more being delivered in February next year.
"With our own wings and our own strength, we are growing our fleet, we are increasing our destinations," says Ioannis Grylos, chief of the IOGR Group with which the airline is associated.
"We are changing the aviation landscape in our country, while supporting the Greek economy."