Middle Eastern carrier Gulf Air appears to have cancelled the 10 Airbus A220-100 it ordered nearly a decade ago.
Gulf Air had signed for the aircraft in mid-2011, when it was still known as the Bombardier CSeries, two years before its first flight.
But doubts over the delivery have persisted and the airline's then-chief, Kresimir Kucko, told FlightGlobal in 2018 that the deal remained subject to certain agreements being met with Airbus.
Kucko was succeeded in October by acting chief Waleed Abdulhameed Al Alawi, and the order for the A220s has since been removed from Airbus's backlog, the airframer's latest data shows.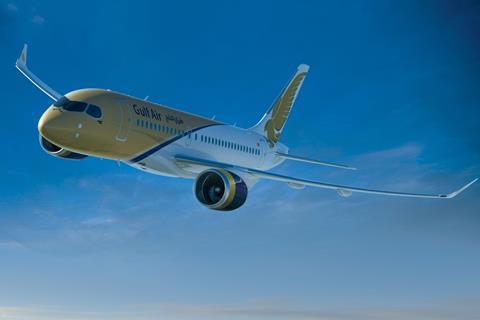 Airbus has also revealed that another A220-300 has been trimmed from the backlog of Macquarie Financial Holdings, taking the customer's total down to 33.
With no new orders recorded for November, the 11 cancelled A220s reduced Airbus's net order total to 297 aircraft for 2020.
Airbus delivered 64 aircraft over the course of the month – including seven A350s, an A330-900 and 56 single-aisle models – bringing overall deliveries this year to 477.