Chinese carrier Hainan Airlines is to sell a pair of Airbus A350-900s, and offer another four of the type for lease.
The carrier has detailed the plan in a formal tender invitation dated 2 April.
It aims to divest the two A350s for sale – both delivered in late 2018 – by the end of 2022.
Each has a maximum take-off weight of 280t. Neither has had much utilisation, with just seven or eight cycles since new.
The jets are configured with 334 seats in three classes.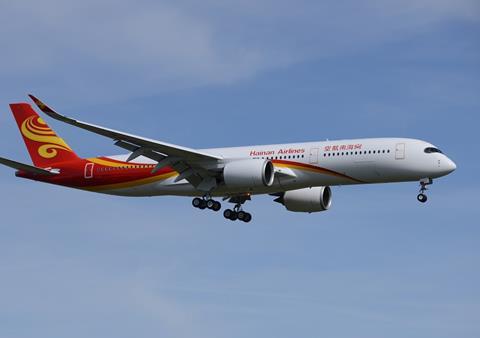 Hainan says it will sublease four other A350-900s. Two were delivered in 2020, also with 334-seat layouts, and have similar low utilisation, with less than 10h and only six or seven cycles.
The other pair are 2019 airframes with 275t take-off weight, fitted with a three-class, 339-seat configuration.
They also have higher usage, with 916 and 984 cycles and more than 3,000h accumulated time.
Hainan says the A350 rejig is to "further optimise the fleet structure" and it will draw up a shortlist of interested parties for final negotiations through the public bid.
"Our company will give priority to the bidders who purchase or lease multiple aircraft," it says. The initial invitation to bid will close on 10 April.