Swiss carrier Helvetic Airways is to open a base at Basel airport, where it will station a pair of regional Embraer E-Jets for Mediterranean services.
Helvetic says the Basel operation, which commences on 10 July, is its first from the airport. It will fly to the Spanish city of Jerez, as well as the Cypriot resort of Larnaca, and the Greek island of Santorini.
The airline signals that its decision is tied to the gradual easing of travel restrictions within the European Union, spurring a "tangible increase in demand" for holiday flights.
Basel offers "a lot of potential", says Helvetic chief executive Tobias Pogorevc. The airline will use 112-seat Embraer 190s and 134-seat 195-E2s on the route.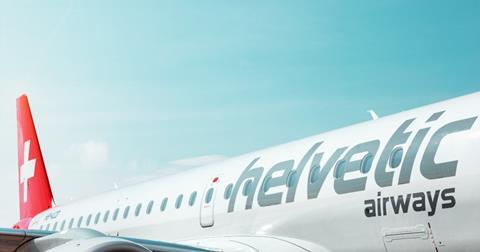 Helvetic's decision follows wet-lease specialist SmartLynx's opting to open its own base at Basel for holiday flights earlier in June.
SmartLynx is operating charters for leisure firm TUI and has stationed an Airbus A320 at the airport.
It is flying to destinations in the Mediterranean as well as the Canary Islands, according to Basel airport's operator.
SmartLynx is also flying for TUI from Germany's Saarbrucken airport, and will operate A320s for travel service Involatus from several other German airports, among them Munich, Hamburg and Cologne.