Swiss carrier Helvetic Airways has conducted the first commercial service with an Embraer 190-E2 into London City airport, following approval for the type to carry out steep-approach landings.
The E190-E2 secured steep-approach certification from the European Union Aviation Safety Agency in May this year.
London City has a runway length of just over 1,500m and its glideslope involves a descent angle of up to 5.5°, nearly twice that of the standard 3°.
The re-engined E2 family is equipped with Pratt & Whitney PW1900G engines and the improved fuel-burn brings more distant destinations from London City – such as Moscow, Casablanca and Istanbul – into range, says Embraer.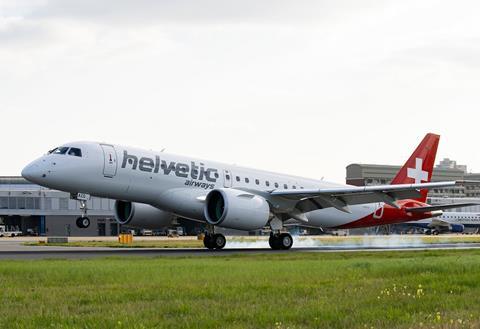 The initial aircraft (HB-AZG) arrived at London City on 2 September as the LX456 service from Zurich, operated on behalf of Swiss International Air Lines.
"We are convinced that the Embraer E2 is perfectly suited to the requirements of business customers flying between the financial centres of London and Zurich," says Helvetic Airways chief Tobias Pogorevc.
London City chief operating officer Alison FitzGerald says the E2's arrival is a "significant milestone" in the drive to introduce lower-noise and lower-emissions types to the downtown airport.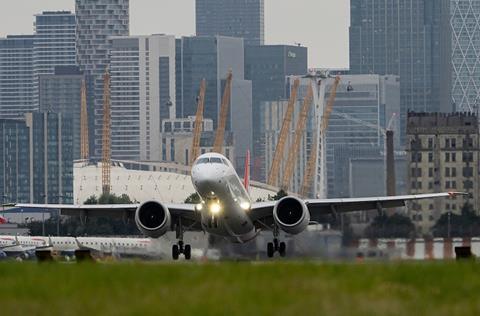 Embraer jets already have a strong presence at London City, accounting for some 90% of aircraft movements. The airframer's vice-president of sales and marketing for Europe, Cesar Perreira, says the E190-E2 offers a near-20% cut in fuel consumption and 63% smaller take-off noise footprint than the company's previous generation aircraft.