Nigerian start-up carrier Green Africa Airways has been forced to postpone initial services, after a delay to its air operator's certificate.
The Lagos-based regional operator had been aiming to commence flights on 24 June across a network of seven domestic destinations using ATR turboprops.
But while it has been in the final stages of securing its AOC, the airline states that it has agreed with the Nigerian civil aviation authority to delay its first services.
The carrier says customers who have already booked flights will be able to transfer them, free of charge, to dates "starting August".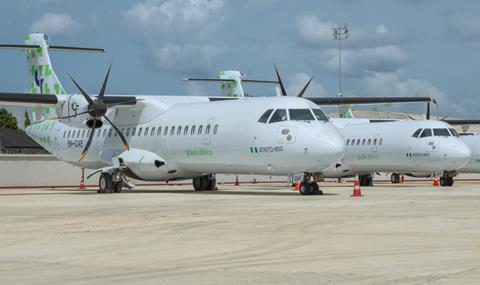 Green Africa has not elaborated on the reason for the postponement beyond saying that its AOC is being held up "due to unforeseen circumstances", following a meeting between the regulator and senior members of the carrier's management team.
"This is certainly a bump in the road, and we are mindful of the impact, especially on our customers and other stakeholders," says Green Africa chief executive Babawande Afolabi.
But he says he is "confident" of the regulator's support in assisting the airline to start flights.
"We have also put plans in place to compensate our affected customers," Afolabi adds.
Green Africa, which had previously been given clearance to open bookings, is suspending its reservations system temporarily to avoid further complications.