The Hong Kong government has appointed two observers to the board of Cathay Pacific Airways, as part of its bailout plan for the Chinese special administrative region's flag carrier.
Carlson Tong and Rimsky Yuen joins the board as observers with immediate effect, the government said in a 14 July statement.
"Mr Tong has been active in public and community services and possesses extensive knowledge and significant experience in the financial services sector. He was a board member of the Airport Authority Hong Kong and is familiar with the operation of the Hong Kong aviation industry," says Hong Kong's financial secretary Paul Chan.
"Mr Yuen is a seasoned legal expert in commercial and civil matters with vast experience in public services and administration. They are suitable candidates to serve as observers to the Cathay Group's board. I am confident that they will help safeguard the government's investment interest in the Cathay Group."
Yuen was the city's secretary for justice from 2012 to 2018, and is currently a member of the Exchange Fund Advisory Committee, the investment arm of the Hong Kong Monetary Authority, the city's de facto central bank. Tong served as the chairman of the city's Securities and Futures Commission from 2012 to 2018, and was a member of the Exchange Fund Advisory Committee from 2010 to 2020. He was a board Member of the Airport Authority Hong Kong since 2017 until he left the post in July 2020.
In their new roles, Tong and Yuen have the right to receive notice of Cathay's board meetings, attend and speak at all meetings of the board, receive information ad papers distributed by the board, and have access to management and to all information about the company. However, they have no voting rights at board meetings.
In June 2020, the Hong Kong government decided to invest HK$27.3 billion ($3.52 billion) in the Cathay Group through its Land Fund, comprising preference shares with detachable warrants of HK$19.5 billion and a bridge loan of HK$7.8 billion. It made the move "with a view to upholding Hong Kong's status as an international aviation hub amidst the threat arising from Covid-19".
As part of that investment agreement, the government may designate two observers to the Cathay Group's board of directors, until the airline repays the government in full for the drawn bridge loan and interest and redeems all preference shares from the government.
In a statement sent to Cirium, Cathay says it welcomes the appointment of Tong and Yuen and looks forward to working with them "closely".
WAGE SUBSIDIES
Meanwhile, Cathay and seven of its subsidiaries have received nearly HK$680 million in wage subsidies as part of the government's Employment Support Scheme (ESS), according to government data made public on 14 July. The funds support the salary payments of nearly 26,000 employees.
It is not clear why the flag carrier was not included in the first round of ESS subsidies, which were released in June and included the Hong Kong entities of foreign carriers like Taiwan's China Airlines and EVA Air, as well as mainland Chinese carrier China Southern Airlines. Cirium has contacted Cathay for comment.
Under the ESS scheme, the government will pay 50% of the actual wages paid to each "regular employee" in the specified month. The maximum monthly wage subsidy per employee is HK$9,000.
Mainline carrier Cathay Pacific received over HK$458 million for its 17,703 staff, while regional carrier Cathay Dragon got over HK$69 million for its 2,581 staff.
Cathay's catering company got nearly HK$44 million for its 1,590 staff, while Cathay Pacific Services, which has a 20-year franchise from the Airport Authority Hong Kong to operate a cargo terminal at Hong Kong International Airport, got over HK$17 million for its 646 staff.
Ramp and ground handling company Hong Kong Airport Services got over HK$70 million for its 2,624 staff.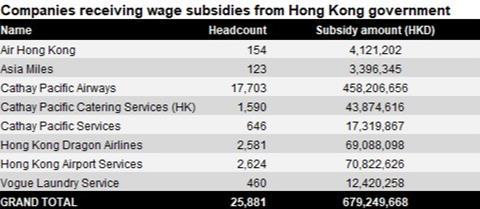 Among the other subsidiaries to benefit was Cathay's laundry business, Vogue Laundry Service, which according to Cathay's website services more than 27 airlines, as well as 35 hotels, clubs and institutions.The group's loyalty programme, Asia Miles, also received nearly HK$3.4 million for its 123 staff.