Passenger numbers at Hong Kong International Airport (HKIA) soared in January, as the abandonment of travel restrictions boosted travel demand.
The month saw passenger movements of 2.1 million passengers, a 28-fold increase from January 2022, when draconian travel restrictions were firmly in place, according to HKIA figures.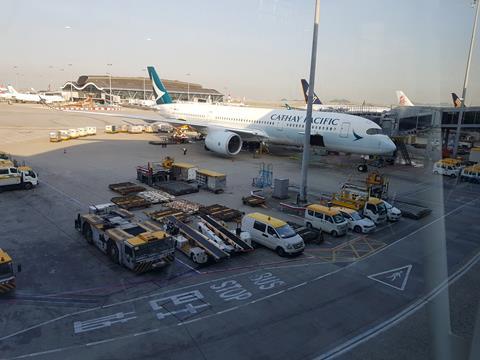 Passenger aircraft movements doubled to 10,665.
HKIA says that most of the travel involved Hong Kong residents flying to Japan and Southeast Asia. The Lunar New Year holidays in late January also boosted traffic.
Total air cargo volumes, however, fell 26.4% year on year to 288,000t. HKIA attributes the weakness to "global economic uncertainty" as well as factory closures in Mainland China during the January holiday season
"Southeast Asia, Taiwan, North America, and Europe saw significant decreases in terms of cargo volume during the month," says HKIA.
A major beneficiary of the rebound is Cathay Pacific. In mid-February it revealed that it carried more than one million passngers in January for the first time in nearly three years.
Throughout the pandemic, Hong Kong tried to closely follow the 'zero-Covid' strategy of Chinese leader Xi Jinping. This resulted in the city – once dubbed "Asia's World City"– being largely cutoff until recent months.