Cathay Pacific has cited Hong Kong's "strict quarantine requirements" as a key reason for low passenger travel demand into the territory.
Releasing traffic figures for September, the embattled carrier notes that while transit passengers — particularly those travelling within Asia and to the USA and UK — were "a key driver for demand", there was "very weak" demand for flights into Hong Kong.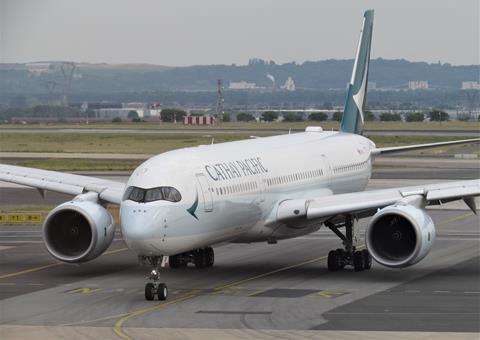 Hong Kong remains one of the few cities in the world sticking with a 'Zero-Covid' strategy — which sees a complete elimination of coronavirus cases — even as other countries like Australia and Singapore have abandoned it in favour of cracking open their borders.
Cathay's chief commercial and customer officer Ronald Lam adds: "We are continuing to monitor and assess the potential opportunities for demand from the relaxation of quarantine requirements for travellers flying to various markets, most notably the US."
In September, Cathay carried close to 132,000 passengers, more than double year on year, but just 5% pre-pandemic numbers.
Capacity increased 40% year on year, but was down more than 87% compared to September 2019. Meanwhile, traffic more than doubled compared to 2020, but was down 92% against pre-pandemic 2019.
As for cargo, Cathay notes that demand remained robust for the month. It reported a 20% year-on-year upswing on cargo and mail carried, to nearly 131,000t — the highest since the start of the coronavirus pandemic in 2020. Cargo capacity also rose 16% year on year, says the airline.
To meet the rise in demand, Lam says Cathay has mounted 20% more cargo-only passenger flights compared to August.