Australia's Qantas Group swung back to profitability on the back of "robust" travel demand and higher yields, despite being hit by a series of operational snags.
For the six months to 31 December 2022, the group – comprising Qantas and low-cost unit Jetstar – posted an underlying pre-tax profit of A$1.4 billion ($955 million), its highest half-year profit in about five years.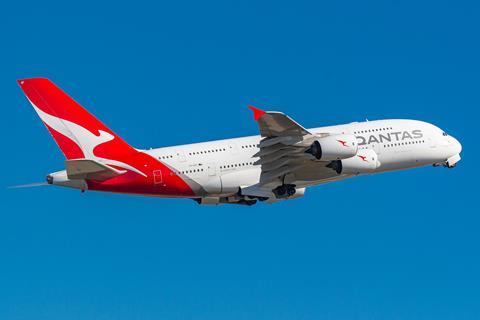 It also reverses the A$1.3 billion underlying loss disclosed in the year-ago period.
Group chief Alan Joyce, in comments made alongside the financial results, hails the airline's "huge turnaround" to profitability, noting that the airline's A$1 billion restructuring exercise - announced in 2020 amid the pandemic - had begun to bear fruit.
"When we restructured the business at the start of COVID, it was to make sure we could bounce back quickly when travel returned. That's effectively what's happened, but it's the strength of the demand that has driven such a strong result," says Joyce.
Qantas Group's operating segments all returned to profitability in the half-year, helped by a significant uptick in revenue.
Qantas Domestic posted an underlying EBIT of A$785 million, against the A$613 million loss in the year-ago period, when Covid-19 restrictions were still in place.
Qantas and Jetstar's domestic operations suffered a string of operational snares – including record flight cancellations, delays, and lost baggage – during the half-year period, prompting the airline to trim capacity and beef up manpower in an attempt to mitigate the issue.
Qantas International, meanwhile, swung to an underlying EBIT of A$464 million, reversing the A$238 million loss a year ago. The unit was helped by the continued expansion of the international network as border restrictions eased, coupled with capacity constraints on key routes which drove up yields.
Low-cost unit Jetstar reported a positive EBIT of A$177 million, against A$417 million in the year-ago period.
The group did not provide a profit forecast, but notes that travel demand will remain strong for the rest of the year. Qantas adds that it "has not seen" any shift in travel demand, noting that consumers "continue to prioritise travel over other spending categories".
In its outlook, Qantas expects domestic operations to surpass pre-pandemic capacity by current half-year, which ends 30 June. By the second half of this year, Qantas sees domestic capacity at about 9% higher than pre-pandemic levels.
International recovery will be slower, notes Qantas, with capacity still below pre-Covid-19 levels. In the half-year to 30 June, Qantas Group expects to operate 76% pre-pandemic capacity, rising to 89% in the July-December period.