While bread-making and learning a new language were among the most popular Covid-19 lockdown projects for many people, it was a difference story for the airline chief executives who featured in a panel discussion at the IATA AGM on 20 June.
As the session was nearing its end, the heads of Avianca, Qatar Airways and Virgin Australia were quizzed on their "pandemic projects" by moderator Richard Quest. And while some of the answers were predictable – Virgin Australia's Jayne Hrdlicka bought a puppy, while Avianca's Adrian Neuhauser enjoyed more time with his family when travel was out of the question – others were less so.
"I figured out how to buy an airline on Zoom," Hrdlicka states. "That was not an easy thing to do."
"We never, ever met in person through the whole process of the bidding by private equity funds for Virgin Australia."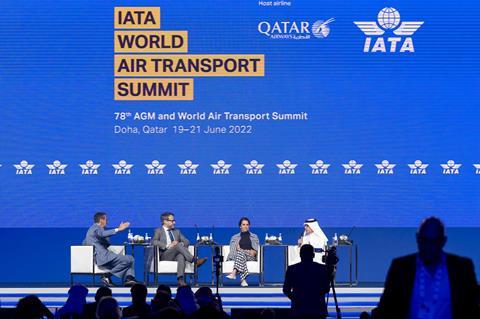 Describing eventual winning bidder Bain Capital as "phenomenal", Hrdlicka notes that its representatives "were in all parts of North America, Europe and Asia" and could not enter Australia because of border restrictions.
"I met my new board for the first time two months ago," she adds. "I had never met four members of my board in person."
Avianca chief Neuhauser was similarly forced to learn a new business-related skill, in this case as his carrier went through Chapter 11 restructuring.
"I learned about airline bankruptcies and bankruptcy law – that was a lot of fun," he jokes.
The Colombian carrier emerged from brankruptcy proceedings on 1 December last year.
But pandemic projects were not for everyone. Just ask Qatar Airways chief executive Akbar Al Baker.
"My life during the pandemic didn't change," he states. "So I didn't change anything."
"I just continued as I was."