Iberia parent IAG's planned acquisition of fellow Spanish carrier Air Europa is to face in-depth scrutiny by European regulators concerned over the potential competition effects on Spanish routes.
The European Commission is opening a probe into the proposed takeover, which underwent a revision in the wake of the air transport crisis after originally being agreed in November 2019.
IAG, which also has Spanish budget carrier Vueling, is intending to acquire Air Europa for €500 million.
But the Commission has expressed concern that as many as 70 city pairs on the Spanish international and domestic networks could face a significant reduction of competition.
Initial analysis shows IAG competes with Air Europa directly on several routes from Madrid to the USA and Latin America, as well as feeder routes to the Spanish capital. The two also overlap on domestic and short-haul connections.
"On some routes, IAG and Air Europa have been the only two airlines operating," the Commission says.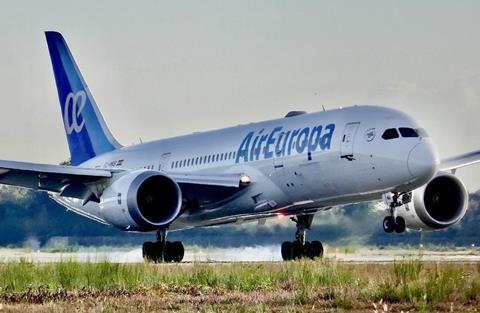 European competition commissioner Margrethe Vestager says the airlines are "key providers of connectivity" between Spain, Europe, and Latin America.
"We will carefully assess whether the proposed transaction would negatively affect competition on domestic, short-haul and long-haul routes to and from Spain, possibly leading to higher prices and reduced quality for travellers," she adds.
The Commission states that the acquisition could potentially affect carriers which rely on Air Europa's feeder traffic at Madrid and other airports.
"Some airlines may decide [without the feed] to terminate their services to international destinations also served by IAG, reducing choice for travelers," it adds.
Vestager points out that, while air transport is still in a "fragile" state of recovery, there is a need to ensure that the competitive arena preserves "sufficient choice" for passengers.
Competition from other airlines, including budget carriers, is not likely to provide "sufficient constraint" for the IAG-Air Europa combination on routes where the merged carriers would hold the largest market share, says the Commission.
"Similarly, the competitive pressure of European network airlines or Latin American airlines appears insufficient," it adds.
IAG and Air Europa have not yet submitted remedial commitments although the Commission says they entered into preliminary agreements with two Spanish airlines as "potential remedy takers". The Commission has until 5 November this year to conduct its investigation and reach a decision.