Proposed remedies from IAG to address competition concerns over its acquisition of Spanish carrier Air Europa did not satisfy the European Commission, the regulator has disclosed.
IAG and Air Europa have agreed to end the acquisition proposal in its current form, with a view to looking at an alternative structure.
The Commission had previously expressed doubts over the competition impact on several routes, given that IAG already owns Spanish carriers Iberia and Vueling.
"Discussions with the companies and the proposed remedy package…were not able to adequately address the competition concerns identified," it states.
Scrutiny of the merger was being undertaken not only by the Commission but by the UK's market regulator.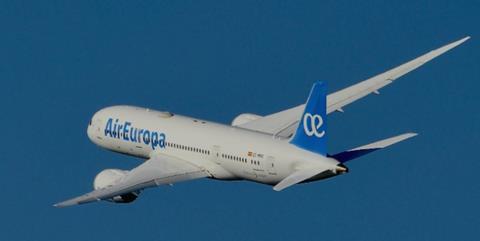 "IAG and Air Europa are leading airlines in Spain, with their hubs in Madrid from where they operate a network of domestic and international flights," says European competition commissioner Margrethe Vestager.
"In-depth analysis carried out during the…investigation indicated that the merger would have negatively affected competition on some domestic, short-haul and long-routes within, to and from Spain."
Vestager adds that the Commission's assessment accounted for the effect of pandemic-related restrictions on air travel.
"IAG offered remedies but, taking into account the results of the market test, the remedies submitted did not fully address our competition concerns," she says, adding that competition needs to be "preserved" for the recovery of air transport.