IAG is to maintain its Level operation out of Barcelona, having retreated from its expansion of the budget brand in other parts of Europe.
The parent company indicates that it is cutting back Level's long-haul fleet of seven Airbus A330-200s to just two aircraft.
Level had four A330s deployed in Spain and another three with its French operation in Paris, while six Airbus A320-family jets were positioned with the Level Europe division in Vienna.
But the air transport crisis has forced Level Europe into insolvency – with the redeployment of its six aircraft to IAG's Spanish budget arm Vueling – while consultations are under way into closure of the French operation.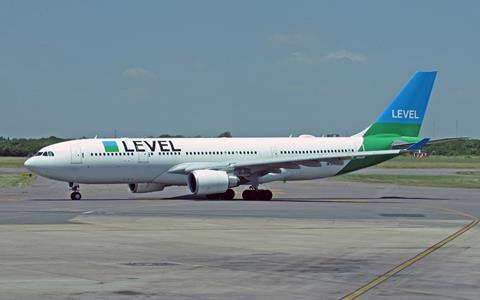 Although IAG signals that Level's A330 fleet (above) is being cut to two aircraft, chief executive Willie Walsh told investors during a second-quarter briefing on 31 July that the company "intends to continue operating out of Barcelona" and that this operation would have "more than two aircraft".
"We think the Level brand is very strong in Barcelona," he says. "It's worked very well for us."
But Walsh states that the shutting of Level Europe and potential closure of Level France illustrates that IAG will stick with its principle of insisting that businesses justify their existence and meet set targets.
"Where they don't achieve it, we're not going to throw good money after bad," he says.
Level Europe's management, he states, could not find a path taking the company through a recovery, and determined that the business "could not be rescued".
Closure of Level Europe resulted in 240 job losses while that of Level France – yet to be confirmed – could result in another 190.
But Walsh says that the Barcelona operation has been generating "good" returns and stresses that the division has a "clear and viable path" to achieve targets.
IAG has not given specific financial performance details for Level but Walsh says all the parent company's airlines made "substantial" losses during the second quarter.
British Airways turned in an operating loss of £711 million ($935 million), followed by Iberia with €277 million ($328 million), Vueling at €181 million and Aer Lingus with €98 million.