Spanish budget carrier Vueling has trimmed another pair of Airbus A321neos from its single-aisle backlog.
Vueling originally had 14 of the largest A320neo-family variant on order but has yet to take delivery of any.
Over the past two months, Airbus's backlog figures indicate, the airline has been removing A321neos orders – three aircraft in March and two more in April – leaving it with nine.
These appear to correspond with separate additional A321neo orders placed by Spanish flag-carrier Iberia. Both Iberia and Vueling are owned by IAG.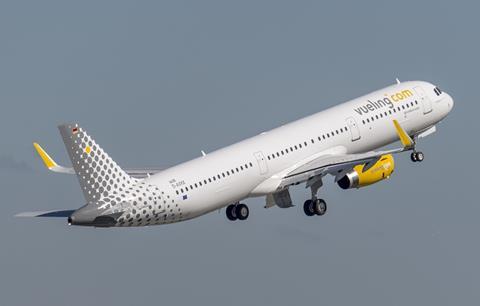 Vueling was allocated 62 Airbus single-aisle jets – comprising 20 A320s, 10 A321s and 32 A320neos – as part of a large IAG modernisation in 2013.
It subsequently committed to another 15 A320neos the following year.
Vueling began converting some of its overall total of 47 A320neos to the A321neo in 2019, eventually switching 14 to the larger model.