Spanish carrier Iberia has carried out a domestic service using sustainable fuel produced from waste as a raw material.
The IAG airline operated the Madrid-Bilbao flight, IB426, using an Airbus A320neo powered by CFM International Leap-1A engines.
Its operation followed a collaboration agreement signed between Iberia and the energy company Respol, which has a production facility, the Petronor complex, located near Bilbao.
The batch of biojet fuel was manufactured at the complex in August.
It was the third batch to be produced, but the first on the Spanish market to be generated using waste as a raw material. Previous batches were produced from biomass at Respol's industrial facilities in Puertollano and Tarragona.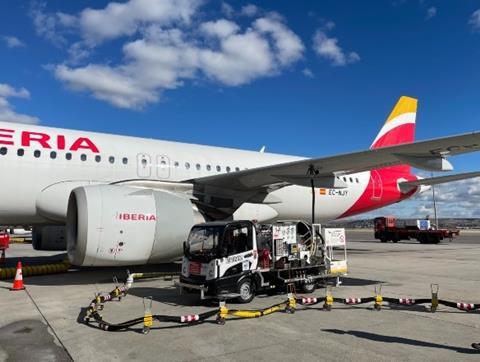 "Electrification is not viable at the moment and renewable hydrogen still requires a technological breakthrough in aircraft," says Iberia. "Biofuels will be the fastest and most efficient option for reducing emissions in air transport over the next few years."
Iberia says the flight – which saved 1.4t of carbon dioxide emissions – also improved fuel efficiency through a profile which enabled the aircraft to reach optimum altitude during the climb and descent, while its ground-handling was conducted with eco-friendly vehicles including electric-powered fuellers and tractors.